Located 40 miles south of San Francisco and 20 miles north of Santa Cruz on Highway 1, Ano Nuevo Reserve is a great hike any time of year, however in the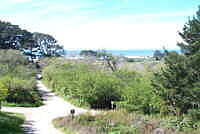 winter months the huge elephant seals make the area beaches and sand dunes their breeding ground and they again come ashore to molt in the spring and summer.
I've hiked here with my kids several times and they never tire of the close encounters with these huge sea mammals. Male elephant seals can reach lengths of 16 feet and weigh as much as three tons. Guided tours take you closer than you may want to get to these lumbering giants. The elephant seals appear big, fat, and slow, but their occasional territorial confrontations prove how fast they can be. The kids seem to enjoy the curious pups most of all, they are very appealing with their big sad looking eyes. The rangers who conduct the tours provide interesting facts regarding the seals and history of Ano Nuevo Reserve.
Some of the other interesting aspects of the reserve are the many whale bones found here and the evidence of the Ohlone Indians who frequented the area prior to the Spanish settlements to hunt and forge for the riches of the sea. There are large shell mounds to prove that the Ohlone gathered great quantities of shell fish. The California Gray Whales follow their annual migratory route close to the point and often the spouts of these magnificent creatures can be viewed from the trails with an ocean view.
There are several trails in the reserve. A family favorite is the hike from the main parking area west along the bluffs to Point Ano Nuevo where the views of the surrounding coast line and Ano Nuevo Island are spectacular on a sunny day. This round trip hike is approximately three miles.
Certain parts of the park are open to hikers only by guided walks. Guided walks are conducted daily from December through March and reservations are recommended. During the months of April through November permits are required to visit the point where the elephant seals make their home. Permits are free and issued on a first come first serve basis, so get there early!
Phone Numbers for Ano Nuevo Reserve:
(650) 879-0227 or
(650) 879-2025