WILDER RANCH - GRAY WHALE RANCH MOUNTAIN BIKE RIDE
PHOTO BY STAN DELK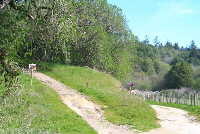 Straddling Highway 1 about 3 miles north of Santa Cruz, Wilder Ranch consists of several thousand acres crisscrossed with hiking, biking, and equestrian trails. On the ocean side of Highway 1 there are several miles of trails along the beach frontage showcasing interesting rock formations, secluded beaches, a small fern grotto and one of the largest brussells sprouts farms in the world. Whoopee! For small children, there is a well preserved 19th century dairy farm, with animals to watch and pet.
On the inland side of Highway 1 you will find about 20 miles of trails perfectly suited for mountain biking with a variety of terrain ranging from fairly level to very steep and trail widths ranging from fire roads to the most exacting single tracks. Up the hill and contiguous to Wilder Ranch is Gray Whale Ranch which is also a most attractive biking area. Formerly private property, available only by trespassing (which we don't recommend) Gray Whale Ranch has recently been opened to the public and has added several miles of beautiful redwood forested trails to the system.
We have seen a variety of wildlife while riding at Wilder. If you're lucky you might see deer or catch a fleeting glimpse of a bobcat or a wild pig. If you're unlucky you may have an up close and personal encounter with one of the latter two. So, be careful, never ride alone, and make a lot of noise as you're riding through wooded areas. If you let them know you're coming, neither one of you will be surprised by the other.
There is a lot to see at Wilder, so take plenty of water, some snacks, and plan to spend the good part of a day there.
SARATOGA GAP - LONG RIDGE MOUNTAIN BIKE RIDE
Located at the crest of the Santa Cruz Mountains at the junction of Highway 9 and Summit Road (Highway 35) the trail system straddling Skyline Boulevard near Saratoga Gap consists of many trails through several different open space districts. This trail system is a part of the Bay Area Ridge Trail and offers many miles of both easy and difficult, but always scenic, mountain biking. The really ambitious might start their ride at Stevens Creek Reservoir west of Cupertino and climb to Skyline Boulevard at the top of the hill before cruising back down again. Or you may want to start out at the top and ride up and down some of the more moderate trails which parallel Skyline before looping back to your starting place. A third option, which mountain biking purists abhor, is to do the old "Two Car Shuttle" and ride downhill only. Whichever you choose, these trails are "must do" on the Central Coast.
Along this section of ridge you'll find the Skyline Ridge Open Space Preserve with 1,612 acres, Russian Ridge Open Space Preserve with 1,580 acres, Los Trancos Open Space Preserve with 274 acres, Monte Bello Open space Preserve with 2,700 acres, Wunderlich County Park with 940 acres, Long Ridge Open Space Preserve with 1,600 acres, and Upper Stevens Creek County Park with 850 acres. All of these preserves are interconnected by hiking, biking, and equestrian trails. With a total of 9,556 acres there is plenty of room for everyone. We've ridden for hours on a weekday without seeing another soul. Conversely, weekends can be a bit crowded but not overly so. Although not by design, it seems most mountain bikers will ride in the early mornings, leaving the afternoons mostly to dayhikers.
For more information you may contact the Mid-Peninsula Regional Open space District office at 650-691-1200
BERRY CREEK FALLS BIKE AND HIKE

Berry Creek Falls is one of the gems of the Big Basin Redwoods State Park. Located about 30 minutes north of Santa Cruz on Highway 1, Waddell Creek makes a good staging area for this ride. Ride the faily level fire road for about 6 1/2 miles, then lock your bikes and hike the remaining 1/2 mile to this spectacular 70 foot waterfall. Bring a sack lunch, as there are several good places for a "roughing it" picnic.
The feature article above is about hiking, but applies equally as well to this trip.
HENRY COE RANCH MOUNTAIN BIKE RIDE
Located about 10 miles south of San Jose, Henry Coe Ranch offers some of the most exacting mountain biking on the Central Coast. With steep climbs and harrowing descents on narrow single track, Henry Coe offers a challenge even for the most accomplished rider. Because it's located on the eastern edge of Silicon Valley, temperatures are going to be warmer than they are in the Santa Cruz Mountains, so plan your ride accordingly and take PLENTY of water. Get lots of sleep the night before and don't plan anything for the night after, because you're going to be bushed after a day at Henry Coe.
OLD COAST ROAD MOUNTAIN BIKE RIDE
PHOTO - PUBLIC DOMAIN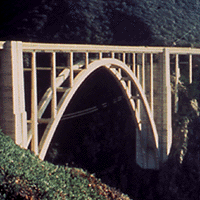 Located between Bixby Bridge and Andrew Molera State Park off Highway 1 in Big Sur, The Old Coast Road is a fun place to spend the day. Though it only covers about 10 miles of dirt road, it still offers a physically challenging day of mountain biking. With steep ascents in sunshine and fast descents in the shade of redwood trees, there is a variety of climate and terrain. Take layered clothing, because you'll be taking it off and putting it back on again throughout the day. The vistas from the top are truly breathtaking. You won't see many people here, maybe an automobile or two, as most of your day will be spent quietly riding through redwood forests and along babbling brooks. Bring lots of water and some snacks, because it's the longest 10 miles you'll ever ride.