Avenue of the Giants Tour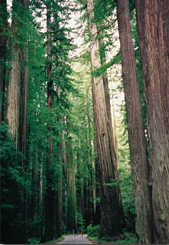 Touring through 32 miles of Redwood forests, the scenery along the Avenue of the Giants is probably seen at its best from a road bike. But look out for motorhomes! Beginning just north of Garberville, follow this scenic avenue through some of the most beautiful scenery in the world, ride through a redwood tree at Myers Flat, and if you choose, you may link to the ride above for a complete tour of the area.
Humboldt Redwoods State Park is located 30 miles south of Eureka on the Redwood Highway.
Phone:707-946-2409
Santa Rosa to Bodega Bay via Occidental
This is a similar route to the one followed each fall by the Waves to Wine fund raiser for Multiple Sclerosis. Leave Santa Rosa from the Luther Burbank Center for the Performing arts. Go west until you reach Trenton, turn left onto Trento Road, follow a slight right onto Laguna Road, followa slight right onto Vine Hill Road. Vine Hill Road then becomes Graton Road, which you follow into Occidental. Turn right on the Bohemian Highway and follow it toward the Russian River. You'll follow the river for a few miles, then cross toward Duncans Mills. Past Duncans Mills, turn left onto Highway 116 then proceed to Highway 1. At Highway 1, turn south and follow the highway to Bodega Bay, which is a good spot for a lunch break.
You may either return by the same route or make a circle by following Highway 1 to Valley Ford. At Valley Ford, turn left onto the Bodega Highway which later becomes Bodega Ave. Follow Bodega Avenue into Sebastopol. Turn left onto N. Main Street, turn left onto Healdsburg, Ave/Highway 116, turn slight right onto Gravenstein Hwy/Highway 116, turn right onto Vine Hill Road, follow the slight left onto Laguna Road, then the slight left onto Trenton Road. Follow Trenton Road back to River Road and Mark West Springs Road and then return to the Luther Burbank Center.
This ride will total approximately 70 miles with a real variety of terrain and scenery. Depending upon your conditioning, this might be an all day trip.
If you're interested in participating in any of the MS fund raisers, contact the Northern California Chapter of the National Multiple Sclerosis Society in Oakland at 510-268-0572 or 1-800-FIGHT-MS. Or you may e-mail them for more information or visit their website at www.MSConnection.org. Waves to Wine is usually held the 3rd weekend in September and is a two day event featuring rides for all skill levels. We've ridden it several times and it is a lot of fun, is exceptionally well run, and helps out a very worthwhile cause. &nbsp