Variations
The hike can be extended from Fern Grotto Beach to Four Mile Beach. This hike winds along the bluffs and brussels sprouts fields and offers great ocean views. Its an easy hike, but long at 10.5 miles round trip.
PHOTO BY STAN DELK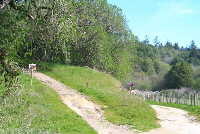 On the inland side of Highway 1 you may hike up into the hills. There is a crossing under Highway 1 through a tunnel near the ranch house so you may avoid the speedy traffic. There are many miles of trails to enjoy, but watch out for wild animals, such as feral pigs, bobcats, an occasional mountain lion, and frequent mountain bikers.
Mountain Bikes are allowed on the beach trails, too, but it's easier to see them coming.
Wilder Ranch: Phone (831) 426-0550/ (831) 429-2850