BAY AREA
Mount Tam
This mecca for mountain bikers offers some good road riding, too. Just head uphill from Mill Valley. There are many miles of paved roads with varying degrees of elevation gain to enjoy. Pick up a map from a local bike shop. They should also be able to recommend the best routes.
Golden Gate Bridge, Marin Headlands Tour
From the parking area just south and east of the Golden Gate Bridge, take the paved trail west, cross under the bridge, and enter it on the west side. On weekends, bikes are required to use the west side, but on weekdays it alternates, so check to see which side to use before you enter.
After enjoying the sights while crossing the bridge, turn west on Conzelman Road and head up the hill. Along the way and at the top are several abandoned cannon emplacements. Be sure to take a side trip through the tunnel to see the vista of the beach area to the north. Returning to Conzelman Road, crest the hill, and enter the beach area via the one way road. The descent is steep and winding, so use caution. We've seen some nasty spills here.
Enjoy the sights of the headlands, then exit this little valley via Bunker Road to the east through a one-way traffic tunnel with a marked bike lane. At the crossroad, you may choose to return by going right, or if you're feeling good and have time, turn left and make a side trip into the village of Saucelito, or you may want to spend some time at East Fort Baker before returning to the bridge via the Bay Trail.
Saucelito - Tiburon Tour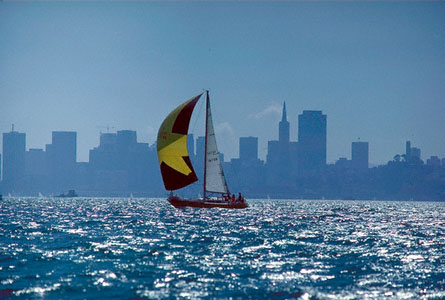 Either as an additional leg of the ride above or as a separate jaunt, Saucelito and Tiburon make for a fun day of bike-seeing. (I think I just coined that word. It means sightseeing on your bike and not expecting a hard workout.) After dodging autos whose drivers are looking for parking in Saucelito, head north past the houseboats and follow the paved path across the marsh. Curve off to the right and then take a leisurely ride into Tiburon. With its trendy boutiques and coffee houses, Tiburon can be bustling, but there is a beautifully landscaped oceanfront area near the ferry dock where you can relax on the lawn, have a snack, and enjoy the view of the City across the bay. If you feel like having lunch in a restaurant, there are a couple of nice spots right there that offer oceanfront dining.
Mill Valley
Mill Valley is quaint, cute, trendy, yuppie, and down-home friendly all at once. But I felt uncomfortable riding on the narrow roads with traffic whizzing by my elbow. Maybe I just didn't find the right route. If you know of a good one, I'm interested.
San Francisco
If you're not up to fighting the traffic in downtown San Francisco or along Fisherman's Wharf, we recommend cycling through Golden Gate Park to the oceanfront Great Highway, or through the forested surface roads of the Presidio. The grades are only moderately difficult and occasionally you might glimpse some of the wildlife which is returning to the Presidio. Should you choose to go out to the Great Highway it's fun to go north and climb up past the historic Cliff House and the Sutro Baths before returning.
If you feel like you're up to the traffic, there are some interesting self-guided scenic bike tours which will lead you to points of interest near Fisherman's Wharf, North Beach, Marina Green, and other spots nearby. You should be able to pick up a detailed map at any local bike shop.
EAST BAY
The Three Canyons Tour
A local favorite is a very nice 35 mile loop through Palomares, Niles and Eden Canyons in southern Alameda County. Just south of Interstate 580 between Dublin and Castro Valley is a good area to start. Go east along Eden Canyon Road, to Foothill Road, then south to Niles Canyon Road. Take Niles to to Palomares Canyon Road, turn to the right and head back north to your starting spot.
SOUTH BAY
La Canada Road
On alternate Sundays in the summer, a portion of La Canada Road, south of Crystal Springs Reservoir, west of Highway 280 and South of Highway 92, is closed to automobiles so cyclists, skaters, runners, and walkers can have an unimpeded field day. Granted, these Sundays can get a little crowded, but the rides are worth the hassle. Or, if you're willing to battle the automobile traffic, go on any other day of the year. La Canada Road, La Honda, and Skyline Boulevard offer some very fun and challenging bike rides.
The South Bay Seven Cities Tour
This is one of the local favorites. Start pretty much anywhere near Stevens Creek Boulevard in (1) Santa Clara, proceed west on Stevens Creek Blvd. through (2) Cupertino to Foothill Avenue, turn left, go past Stevens Creek Reservoir, take the left and uphill fork at Mount Eden Road, and then right on Pierce Road at the T intersection to climb up toward The Mountain Winery. Crest the hill, take a quick downhill toward Highway 9, turn left, enjoy another downhill, then enter the picturesque village of (3) Saratoga. This is a good spot to stop for coffee and a short rest. When you're ready to go, follow the same road to the stoplight and then continue on Highway 9 south through (4) Monte Sereno to (5) Los Gatos, take the Los Gatos Creek Trail through Vasona Park and follow the creek east to (6) Campbell. Exit the bike path at Bascom Avenue, go north on Bascom to Stevens Creek Blvd. in (7) San Jose then turn left and return to your point of beginning. You've just cycled through half of the incorporated cities in Santa Clara County. This ride totals about 36 miles and is fairly easy after the initial hard climbs it takes to get to the Mountain Winery. Part of the appeal of this ride is the variety it affords as it changes from city traffic to rural foothills then a leisurely ride along a paved path back to city traffic.
If you're not up to the climb to The Mountain Winery, turn left at the T intersection with Pierce Road and you'll be led to DeAnza Boulevard, turn right on DeAnza and it will lead you to the stoplight in Saratoga mentioned above. You can either continue on toward Los Gatos, or turn right for a short side trip into Saratoga Village.
If you're familiar with the area, you know there are countless variations that can be just as enjoyble. If fact, by adding just a few miles you can easily make this a 9 or 10 cities tour.
Saratoga to Saratoga Gap via Highway 9
This ride is a rite of passage for the intermediate biker. Once you have completed this climb you can claim to have "made it". Unfortunately, we picked the hottest day of the year to ride it. We recommend waiting for a cooler day. From Saratoga, go west and climb continuously uphill until you reach the parking lot at Saratoga Gap. From there you can decide what to do. Either turn around and enjoy the thrilling downhill or tour along Skyline Blvd. for awhile before returning. Advanced cyclists often continue north and descend into Palo Alto before returning to Saratoga.
If you happen to be on a mountain bike, you may want to consider the trail down through Long Ridge to Stevens Creek Reservoir. This is the route we took, but it makes for a full day of hard riding on a hot day.
MONTEREY BAY AREA
Santa Cruz and Capitola
Click to enlarge

These two small beach towns adjoin one another and the area affords some very nice road biking. West Cliff Drive can be crowded, but the scenery is nice. If you're not afraid to get out onto the highway, the ride along Highway 1 to the north is good. Traffic can be very heavy, especially on weekends.

Gene Raffanti took this photo along Highway 1 North of Santa Cruz not far from Swanton Road.
Swanton Road
If you're roadbiking Highway 1 north of Santa Cruz, look for the Swanton Road turnoff. This little 7 mile side trip won't add more than a mile or two to your ride and the scenery is worth it. A meandering road through very gently rolling hills, this road is a central coast gem.
Soquel and Aptos
This is the headquarters of the western office of BICYCLING Magazine. The editors ride here daily and love it. There are many miles of country lanes which make for enjoyable rides. We recommend heading east toward Corralitos. It's very nice. Also a good ride is the Pajaro River Trail which follows the river for about 7 miles and then on into the valley for another 3.
Monterey and Pacific Grove
Although weekend traffic can be horrendous, it's fun to tour Monterey and Pacific Grove on your bike. If you don't mind the crowd, the path from Fisherman's Wharf to Cannery Row and on north to Pacific Grove runs right along the water's edge. This is another bike-seeing ride, so don't hope for a serious workout. At Lover's Point, go onto the road and enjoy the ride past the golf course and Spanish Bay to the entrance of 17 Mile Drive. If you're ready to return, go left on 17 Mile Drive, then right on Lighthouse Avenue. Once you hit the middle of town, any side street will lead you back to the waterfront where you can find your way back. If you are up to some hill climbing, the residential areas above Lighthouse Avenue can surprise you with some breathtaking ocean views.
You may also take the path east from Fisherman's Wharf, through Seaside, and toward Marina. The path quickly veers away from the beach, but it's a nice ride through towering eucalyptus trees.
Pebble Beach - 17 Mile Drive
Most of 17 Mile Drive inside Pebble Beach is closed to bicycles on weekends. If you want the complete oceanfront tour, go on a weekday. The last time I was there, no entry fees were required for bikes, but you must stop at the entry kiosk and sign in. Nice trip, good scenery, but lots of slow automobile traffic. Be careful, those drivers are watching for scenery, not for you. If you want sightseeing with cypress, surf, and sea lions, this is the route, if you want a workout, see the two rides below.
Jack's Peak County Park
Named after the colorful 19th century real estate swindler, and inventor of Monterey Jack cheese, Jack's Peak can be a brutal climb for a cyclist. But the vistas from the top will make it worthwhile. Take Highway 68 east of Monterey about 4 miles, at the sign, turn right and then left following the signs. Near the top you'll be rewarded with a panoramic view of Monterey Bay. If you want to spend a little time walking around the park, you may find fish fossils on this mountaintop which was once an ocean bed. The views of Carmel Valley on the south are great, too. On second thought, you might want to just leave your bike on the car and drive up.
BIG SUR
Highway 1 is for experienced cyclists only. The road is narrow, very winding, and all the auto drivers are gawking at the scenery instead of watching the road. But, if you feel you're up to it, it can be a fun ride. Be careful, it's dangerous. Start anywhere and go anywhere. It's all beautiful.
The most intrepid might want to consider a weeklong trip from Salinas through Monterey and Carmel, down the Pacific Coast Highway past San Simeon, Cayucos, and Morro Bay to San Luis Obispo, where you can catch a train back to Salinas. You can find enough motels, campgrounds, stores, and restaurants along the way to stay refreshed. If you plan this one carefully, it can be a most enjoyable trip. If you don't, it could be a nightmare.